BC Card's "Korean Fintech Wave" Becomes Indigenous to Southeast Asia
On the morning of the 12th, the company signed a 67% stake acquisition contract for Indonesian IT company 'Cranium'.
Indonesia's largest state-run bank "Mandiri" and telecom company "Telcom" are major clients…consists of competent IT developers in the financial and telecommunications sectors.
Expecting synergy between the two companies to provide high-quality IT services at economic costs for companies entering Indonesia.
Accelerate inter-country payment network partnership (N2N) business at Vietnam, Indonesia, Taiwan, Thailand, etc.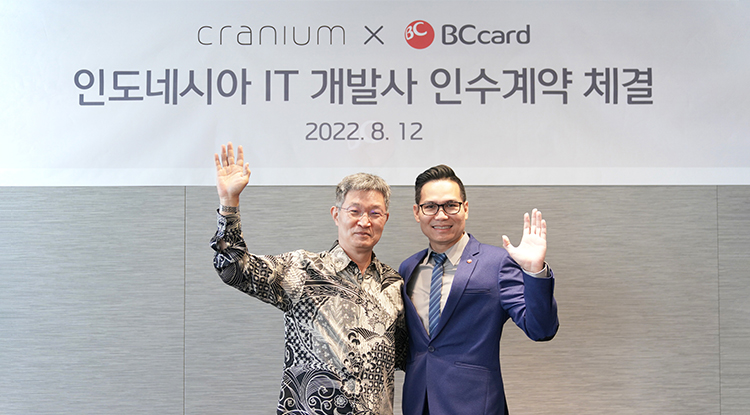 [Photograph]
BC Card announced on the morning of the 12th that it signed a contract to acquire Indonesian IT company "Cranium" at BC Card's headquarters in Seoul, South Korea. BC Card CEO Choi Won-seok (left) and Cranium CEO William King (right) are taking a commemorative photo right after the signing ceremony.
BC Card (CEO Choi Won-seok) will strengthen its global IT outsourcing capabilities by acquiring Indonesian IT developers. It is expected that Indonesia, the world's fourth-largest population (280 million), will serve as a bridgehead to lead the "Korean Fintech Wave" in Southeast Asia.
BC Card announced on the morning of the 12th that it had signed a contract to acquire a 67% stake in "PT. Cranium Royal Aditama" at BC Card's headquarters in Seoul. Major officials such as BC Card CEO Choi Won-seok and Cranium CEO William King attended the contract ceremony.
Since Choi took office, BC Card has been actively seeking to acquire one of the leading IT developers in Indonesia to respond quickly to the payment market in Indonesia. By operating a company with abundant experience in local IT development, it is possible to build a system at an economic cost compared to Korea, so it is to actively support domestic and foreign companies that are promoting overseas expansion.
The newly acquired Cranium is a professional IT developer that carries out digital projects in government institutions, finance, and telecommunications. Indonesian state-owned companies such as Mandiri Bank, Bank BTPN, and Telkom are major clients.
BC Card plans to directly carry out the global financial system development work conducted in South Korea, considering that Cranium has carried out a number of projects in the local financial sector.
In particular, BC Card expects to create synergy with Cranium on establishing the next-generation IT system of Mandiri Bank based on its experience in operating and maintaining payment infrastructure of the bank.
The cooperation is planning to actively support companies that enter Indonesia by combining BC Card's digital technology accumulated in South Korea over the past 40 years and young and competent development personnel of Cranium.
Recently, amid the severe shortage of IT development manpower around the world, it has the advantage of being able to carry out projects in a timely manner. Due to the localization of customer contact channels, it is possible to respond quickly to the needs of companies entering the region, and development costs are also expected to be reduced due to low labor costs compared to Korea.
BC Card plans to quickly expand its capacity and size of the Cranium. Through continuous technology transfer between the two companies and cooperation with the National University of Indonesia, it will strengthen its competitiveness in the Cranium by securing excellent IT personnel.
Choi said, "We have been able to confidently pursue the acquisition of Indonesian IT developers based on our global business experience and achievements. We will make global IT services an important momentum for BC Card's growth as a new area of overseas business."
Meanwhile, BC Card is focusing on connecting 'inter-country payment network (N2N)' mainly in Southeast Asia. In particular, Indonesia is expected to have a high economic growth rate, with 70% of the total population aged 15 to 64 and 54% of the MZ generation, the consumer age group.
In May, it was exclusively selected as an "overseas QR payment affiliate" of the Indonesian government's digital payment national project (QRIS), and will connect Indonesia, Taiwan, and Thailand sequentially through the acquisition of Wire Card Vietnam Corporation last year.