BC Card and Smartro Introduce QR Payment Service to Unmanned Convenience Stores
BC Card-Smartro-GS Retail Collaboration...On January 14, AI-based unmanned convenience store 'GS25 Eulji Smart Store' was officially opened
Applied 'BC paybooc QR Payment'...After scanning the QR code, customer can enter and automatically pay with BC credit card when just the product is brought
Customers can conveniently pay with a smartphone without cash or real card...merchants are expected to increase sales and efficiency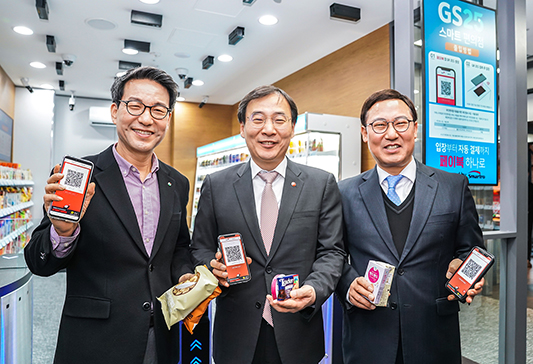 # When I entered the 18-square-meter convenience store, we saw an entrance shaped like a subway entrance. I ran the QR code on credit card company app that we have used daily. The door opened when the QR code was recognized on the scanner at the entrance. When I picked up lunch box products and mineral water and came out of the exit, my smartphone showed the payment details within few seconds.
BC Card (CEO Lee Moon-hwan) provides its QR code-based automated payment technology to its future store called 'Unmanned Convenience' based on Artificial Intelligence(AI) to help customers make convenient payments.
The unmanned convenience store that BC Card, Smartro and GS Retail co-opted is the GS25 Eulji Smart Store located inside the Eulji Twin Tower (BC Card headquarters) located in Eulji-ro, Jung-gu, Seoul. The store was officially opened on Jan. 14 after a pilot test from late December last year. Major officials, including BC Card CEO Lee Moon-hwan, Smartro CEO Lee Hong-jae and GS Retail CEO Cho Yoon-sung, attended the opening ceremony.
'GS25 Eulji Smart Store' is based on a model of an unmanned convenience store operated by China's Union Merchant Service (UMS). 34 'AI cameras' track customers' movements and recognize information about products purchased by customers through near 300 'Weight Sensing Sensors' attached on shelves. Purchases of products are automatically paid. State-of-the-art IT technologies are concentrated throughout the process of consumption, ranging from entrance to purchase to payment.
The automatic payment solution is based on 'BC paybooc QR Payment'. The use is simple. First, install 'paybooc' on your smartphone, which is a simple payment application for BC Card. Then register your BC credit card on the app. By tapping 'QR Payment' icon, highly-secured QR code will be generated and you can enter the store byy scanning the QR code.
When you leave the store, the only thing you have to do is just carrying out the purchase without scanning the product barcode or paying for it. Product information will be automatically sent to paybooc app and payment will be made through BC credit cards. After few seconds, you can check details of the purchase in paybooc app.
In the future, BC Card will operate payment service of GS25 unmanned convenience stores. Smartro, a BC Card subsidiary, will be in charge of IT technology operations. GS Retail will be in charge of supplying products and operating stores.
BC Card expects the unmanned convenience store to provide the best service to customers and merchants. With the recent increase in "Untact Consumption" of services in a non-face-to-face type, customers can enjoy shopping more comfortably with BC Card's automated payment technology.
In addition, the convenience of payment has been strengthened as payments can be made only with smartphones even without cash and real cards. Merchants are expected to be able to manage its workforce flexibly, thereby boosting its sales as well as its efficiency.
"The unmanned convenience store is a digital life platform where customer can experience the latest payment solutions that provided by BC Card and Smartro under co-research with UMS," said by Lee Hong-jae, CEO of Smartro. "We expect it to become a new business model that will satisfy both convenience store customers and merchants."
"The unmanned convenience store using AI is meaningful in that it is a case of collaboration between different industries such as finance and distribution," said by Lee Moon-hwan, CEO of BC Card. "In the future, BC Card plans to further strengthen paybooc-based customer service by expanding various digital payments and authentication services that incorporate AI technologies."