Korea's biggest card company and internet service company join hands
BC Card initiates business consulting service with Naver Data Lab
BC Card and Naver Data Lab signed an MOU in July for a strategic partnership in data business
Plans to use big data to support SMEs, issue trend/issue analysis reports, etc
Emerge search data, a leading indicator and card data, a lagging indicator to create synergy in diverse fields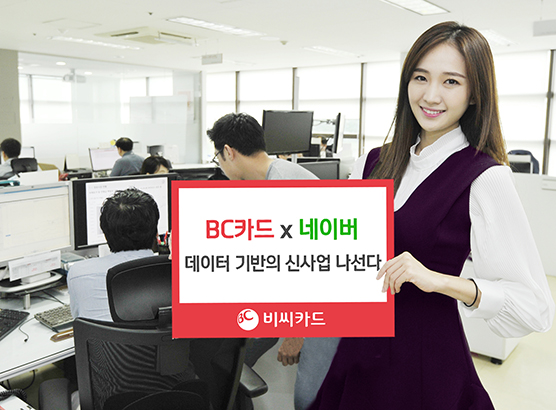 BC Card (President and CEO, Joon Hee Suh, www.bccard.com) announced that it will start business consulting services with Korea's biggest portal Naver.
BC Card signed an MOU with Naver Data Lab for a strategic partnership in multiple fields including ▲ supporting small businesses ▲ issuing cultural trend/issue analysis report and more.
BC Card has been using big data to develop affiliate businesses with public entities and private companies including Seoul City, Ansan City, Koscom, etc. The partnership with Naver Data Lab will be a first for BC Card to combine its data with private data. With Naver's search data, BC Card expects to increase the accuracy of its analysis on culture phenomena and social trends.
Combining Naver's portal search data, a leading economic indicator and BC Card's card data, a key lagging indicator, both companies expect to use the analytic results in various ways. For example, Naver search data can be used to suggest better suited card products or services for cardholders and card usage data can be utilized to provide more fine-tuned shopping information to web users.
Card usage data provided by BC Card will be loaded on Naver Data Lab's newly-installed 'Card Usage Statistics' section and people will be able to see specific card data, most of which were not easily accessible to the public before, such as number of card transactions per month/region, merchant category with the highest purchase volume, etc.
BC Card and Naver expect the partnership between two companies to boost the synergy from data integration and ultimately provide better services for consumers.
Mr. Jin Chul Kim, Head of BC Card's Marketing Strategy Division, stated, "I believe data creates more value when combined with other data. In that sense, partnership with Naver Data Lab and merging of structured and unstructured data are very meaningful. We hope to use big data fusion analysis to develop products and marketing services that are actually helpful to cardholders and also incorporate it in data-based business consulting projects."